1-YEAR ACCESS
ONLINE TRAINING VAULT

FREE SHIPPING
WITH PURCHASE OF 1 KIT
Description

CORE BALL SPECS: This 8 x 5.25-inch diameter Core Ball is an inflatable workout tool made of a soft and durable PVC material that can withstand high pressures. It does not need a pump to inflate, simply use the straw and plug provided (x2 each). CORE BALL TECHNIQUES: The Core Ball provides the gentle pressure of a broad, flat hand, making it the ideal psoas release tool and also for activating the core, massaging the abs, & optimizing the breath. Our training vault protocols will have sections showing uses for this special training tool to help you improve.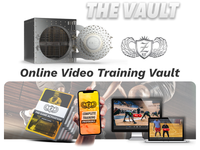 ONLINE VIDEO TRAINING VAULT
All Z KIT members get access to our private online video series providing pro-level strength, mobility and rehab exercises.
Patellar knee pain? Ankle mobility issues? Low back pain? We have you covered.
Let Z show you some of the best ways to use the tools inside your new kit to maximize your experience and level up your performance.