1-YEAR ACCESS
ONLINE TRAINING VAULT

FREE SHIPPING
WITH PURCHASE OF 1 KIT
Description

GRIP STRENGTH TOOLS SPECS: Made with top-quality silicone, our flexion donut brings 40 pounds of resistance and the finger web 8.8 pounds of resistance. Both are great for everyday strengthening, relieving hand fatigue and rehabbing hand injuries.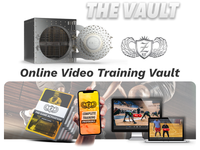 ONLINE VIDEO TRAINING VAULT
All Z KIT members get access to our private online video series providing pro-level strength, mobility and rehab exercises.
Patellar knee pain? Ankle mobility issues? Low back pain? We have you covered.
Let Z show you some of the best ways to use the tools inside your new kit to maximize your experience and level up your performance.