1-YEAR ACCESS
ONLINE TRAINING VAULT

FREE SHIPPING
WITH PURCHASE OF 1 KIT
Description

LACROSSE BALL SPECS: Our standard size lacrosse ball is 64mm (2.5in) diameter and made from high quality, durability tested silicone/rubber for the best possible user results. Unlike tennis balls, our LAX balls don't soften under pressure and won't slide easily on contact.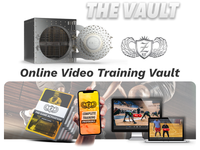 ONLINE VIDEO TRAINING VAULT
All Z KIT members get access to our private online video series providing pro-level strength, mobility and rehab exercises.
Patellar knee pain? Ankle mobility issues? Low back pain? We have you covered.
Let Z show you some of the best ways to use the tools inside your new kit to maximize your experience and level up your performance.