1-YEAR ACCESS
ONLINE TRAINING VAULT

FREE SHIPPING
WITH PURCHASE OF 1 KIT
Description

EXTREMELY DURABLE: Made of thick, high-grade latex this band measures 2 inches wide, 4.5 mm thick and 41 inches in length. It can withstand over 100 pounds of resistance and is nearly impossible to break during a normal workout.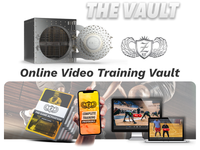 ONLINE VIDEO TRAINING VAULT
All Z KIT members get access to our private online video series providing pro-level strength, mobility and rehab exercises.
Patellar knee pain? Ankle mobility issues? Low back pain? We have you covered.
Let Z show you some of the best ways to use the tools inside your new kit to maximize your experience and level up your performance.