1-YEAR ACCESS
ONLINE TRAINING VAULT

FREE SHIPPING
WITH PURCHASE OF 1 KIT
Description

LONG THIN BAND SPECS: Made of durable high-grade latex, this band measures 1/2 inch wide, 4.5 mm thick and 41 inches in length. The Long Thin Band provides anywhere from 5 pounds to 35 pounds of resistance by utilizing differing levels of tension. TOTAL BODY POWER BAND: Perform overhead presses, rotator cuff exercises, squats, bicep curls, pull-up, dips, hamstring curls and more. Within the Z KIT Training Vault, numerous exercises will be demonstrated using the Long Thin Band to help you on your fitness journey.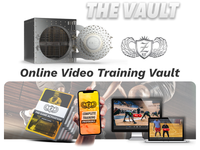 ONLINE VIDEO TRAINING VAULT
All Z KIT members get access to our private online video series providing pro-level strength, mobility and rehab exercises.
Patellar knee pain? Ankle mobility issues? Low back pain? We have you covered.
Let Z show you some of the best ways to use the tools inside your new kit to maximize your experience and level up your performance.