1-YEAR ACCESS
ONLINE TRAINING VAULT

FREE SHIPPING
WITH PURCHASE OF 1 KIT
Description

SPEED ROPE SPECS: The length of our speed rope cable can be easily adjusted to accommodate different users. The rope itself is made of braided steel wire covered with a thin layer of PVC coating. The size can suit taller athletes, as it reaches up to 9.8 feet. With soft memory foam anti-slip handles, we provide a product that will give you a challenging conditioning experience.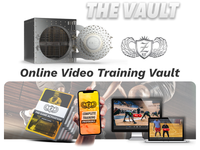 ONLINE VIDEO TRAINING VAULT
All Z KIT members get access to our private online video series providing pro-level strength, mobility and rehab exercises.
Patellar knee pain? Ankle mobility issues? Low back pain? We have you covered.
Let Z show you some of the best ways to use the tools inside your new kit to maximize your experience and level up your performance.